Epiphany: I can do short posts! (Don't worry, there are several more densely ruminatious [new word] stem-winders in the pipeline, in which I will continue to try to unpack the n-dimensional complexity of global energy.)
Meanwhile, I ordered a new toy from eBay today. It's this: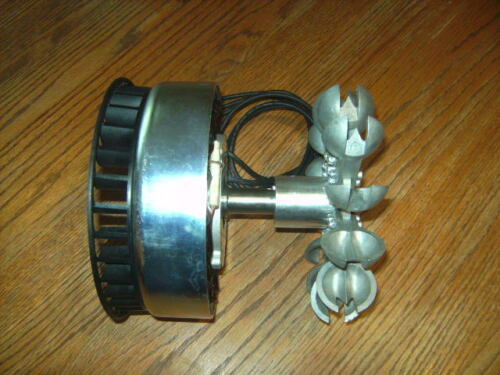 What is it? Well, it's a Pelton wheel turbine attached to a generator. The Pelton wheel (on the right) is a refined yet simple form of water wheel. The bucket-looking things are technically called "buckets" (or sometimes "spoons"). You aim a jet of water at them, and they rotate. That spins the shaft, and that spins the innards of the generator (on the left), and it makes electricity.
This is a toy-sized one. If you want one too, you can get it here for $219. It can make around 2 kilowatts, which is a hair dryer on full power with a little left over. (I find the hair dryer to be a useful and relatable unit of energy. For example, it you take the average American house and average its electrical usage, day and night, over a year, it comes out to about one hair dryer.) Most people who buy these (toy Pelton wheels, not hair dryers) own rural property with a stream flowing through it, to provide a constant flow of water at decent pressure. There aren't a lot of those people, but they make up for it by being really interesting.
I, however, don't own a stream. So what am I going to do with it? Long story. There's more to it than just telling people, "Yes, sir, I'm a Pelton wheel owner," rewarding though that will be. It does involve aiming water at the buckets and making them spin.
Not all Pelton wheels are toys. Here's a bigger one: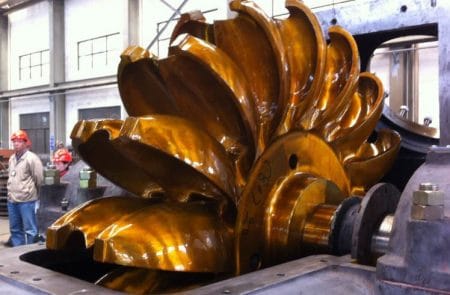 The Pelton wheel was invented by Lester Allan Pelton in the 1870s, a time when if you invented something clever, they might name it after you. During the California Gold Rush, Pelton needed a turbine to get mechanical power out of relatively small rivers to power mining equipment.
What he came up is brilliantly simple, and to this day there is nothing better for certain ranges of water pressure and flow. Each bucket has a sharp edge that splits the water jet in two. The smooth bowls then turn the water 180 degrees and spit it out to the sides, having removed almost all of its kinetic energy. The efficiency (energy out versus energy in) can be well over 95%.
I hope it will be happy in my garage, because that's where it will be living for now. Maybe someone out in the hills will adopt it in the future.
---
Unrelated (except in the labyrinth of my mind where everything is related): Simone Giertz. She makes a lot of YouTube videos, and everyone, literally everyone, should watch them.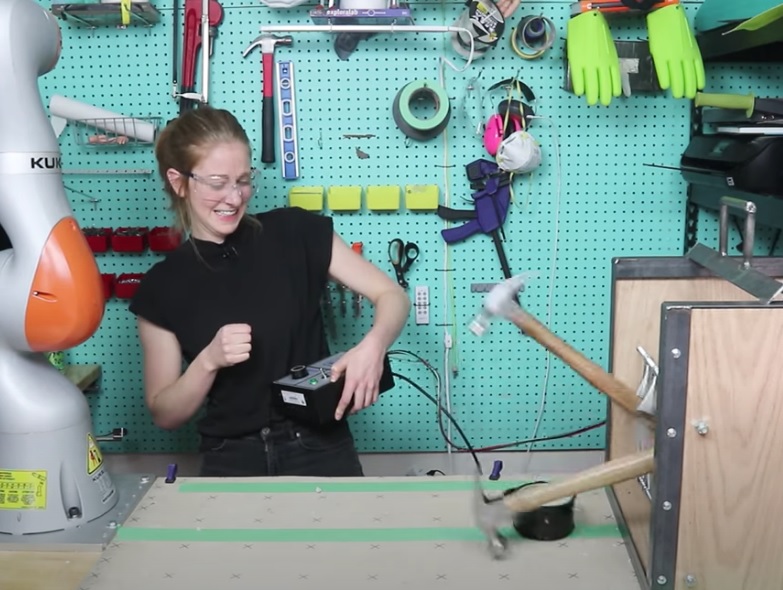 I built a hammering machine that destroys everything (youtube).
I promised a short post, so you can read more about Simone here. By the way, she got her hands on a Tesla Model 3 and converted it to a pickup truck, which she calls the "Truckla." You'll see, it's all connected.